BY MARC LLEWELLYN, Traveller Inspire
(originally posted on www.southaustralia.com)
7.40am – A swim with the dolphins
It's an early start for a trip to the beachside suburb of Glenelg and a journey out to sea in search of dolphins. You can either stay on board the 58-foot catamaran as the animals approach, or you can jump into the water to frolic alongside them.
"We're the most successful wild dolphin cruise in the world," says the owner of Temptation Sailing, Stephen Waites. "The reason I say that is because we've never gone out and not seen dolphins. In 15 years, operating every day, we always see them." On average people spend around 25 minutes in the water with the curious creatures, he says.
While the dolphins generally love playing around the boat and swimmers, the interaction is different on each cruise. "It depends on the time of year, but people are in the water with an average of 43 bottlenose and common dolphins around them. It can be a lot more in November, when there can be a couple of hundred. They come very close to you, but you're not allowed to touch."
Swimmers wear wetsuits, facemasks and snorkels, and hold onto a floatation line while in the water. Waites is so confident that you will see dolphins that he offers a full refund if you don't. Daily Swim with Dolphin cruises leave Marina Pier, Holdfast Shores Marina at Glenelg at approximately 7.40am and return around 11.15am.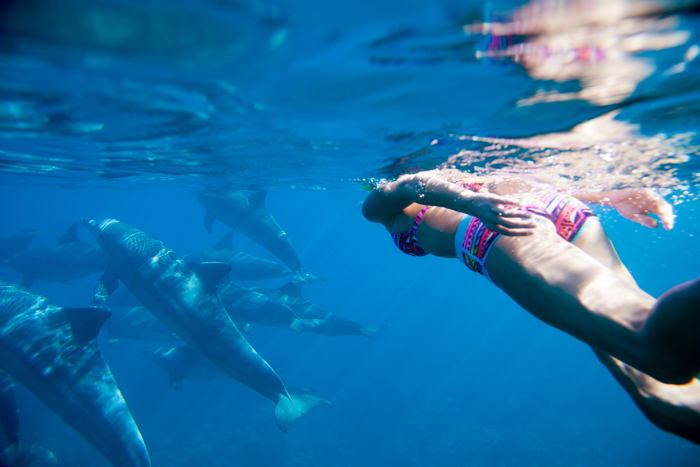 11.30am – Hit the shops
Time for some retail therapy, and there's no better place to start than Adelaide's famous Rundle Mall. This long pedestrian-only shopping strip is strung with department stores, boutiques, shopping complexes and world-famous chain stores.
Buskers add to the entertainment, giving the mall a distinctive festive feel, especially throughout our summer months! There are flagship stores and boutiques to browse, as well as several arcades, including historic Adelaide Arcade, where you'll find Haigh's Chocolates, hundreds of eclectic specialty stores and, as legend goes, a few ghosts.
Design lovers should pop into JamFactory at Rundle Mall Plaza where you can browse through the extensive range of hand crafted ceramics, glassware, jewellery and other collectables made by leading Australian artists and designers.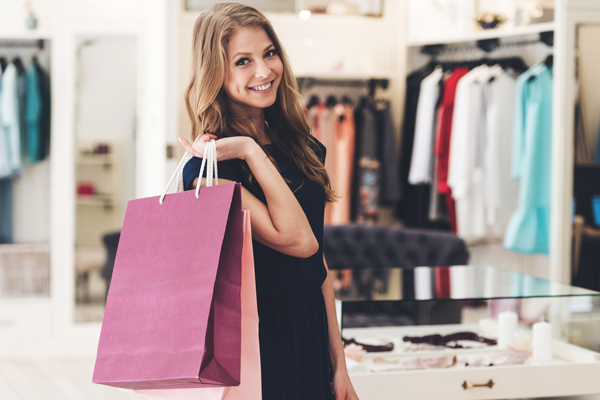 12.30 – Lunch at Adelaide Central Market
Since 1870, Adelaide Central Market has been at the epicentre of South Australia's foodie culture. It's a vibrant, busy place filled with cafés, cheese shops, bakeries, patisseries, fruit and vegetable stalls, meat and seafood outlets, and dozens of artisan food producers selling everything from local olive oil to old-fashioned lollies.
"It's a real melting pot of cultures, with old Italian and Greek families being here for generations and new waves of immigrants setting up shop too," says guide Mark Gleeson from Adelaide Central Market Tours.
Lunchtime options include long-time Adelaide favourite Lucia's Fine Foods, which serves up traditional pizzas, pastries and pastas. Then there's Sunmi's Sushi for sushi and Korean noodle dishes, and Zed's Café for great coffee, lemon tart, salads, soups and more. There are plenty of other lunchtime eateries for a hearty lunch (or a fry up breakfast) too.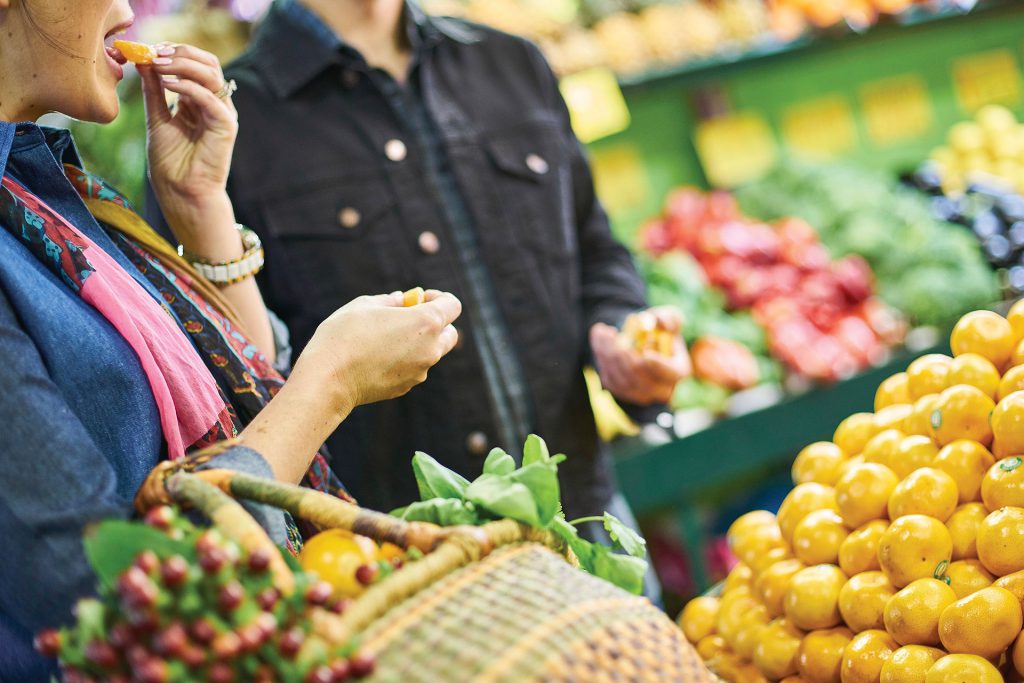 Shopping for fresh produce – followed by lunch – at the Adelaide Central Market.
1pm – Art Attack
Experience the best of Adelaide's arts scene at the Art Gallery of South Australia, located on Adelaide's cultural boulevard, North Terrace. The Gallery was founded in 1881 and houses one of Australia's best art collections as well as a quality cafe. Sit back and take it all in with a coffee in-hand and light lunch on the way.
Peruse plenty of influential Australian art, from the time of European settlement, to the present day, as well as an extensive assortment of Indigenous works, European, Asian and Islamic art. An alternative option is the University of South Australia's Samstag Museum of Art, which displays works from South Australian artists from the 1970s onwards. The Samstag Museum of Art is renowned for its collection of Aboriginal bark paintings.
2pm – High time at the Adelaide Oval
A tour of the famous Adelaide Oval on non-playing days is one of South Australia's most unique experiences, especially if you attempt the Commonwealth Bank RoofClimb. Clip on your safety harness and climb 50m above the playing field on a rooftop climb like no other.
Climb up and down ladders and multiple flights of stairs, and inch across metal grate walkways and bridges between stands. Up top, enjoy views of the city and the Adelaide Hills. You can even lean out over the goalposts, which is quite a thrill.
A quicker and less daunting option is a tour of the oval itself. This takes you backstage to the changing rooms and warm up areas, inside the old manual scoreboard, and out on to the pitch. You don't have to be an Aussie Rules or cricket fan to enjoy it; anyone with an interest history and appreciation of atmosphere is sure to have a great time.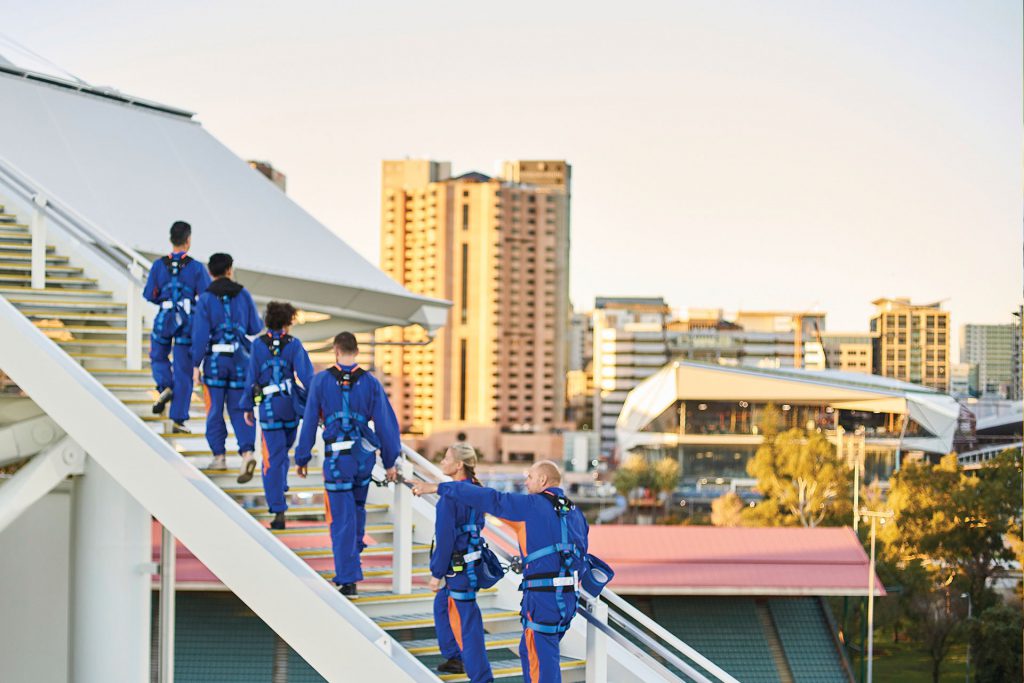 See Adelaide from a different perspective with RoofClimb Adelaide Oval.
5pm – A drop of wine tasting
When you mention great Australian wine, Penfolds always comes to the tip of the tongue. This legendary grape-wrangler has played a pivotal role in the evolution of wine-making in Australia since it was established in 1844, just eight years after the foundation of South Australia.
Luckily for you, the iconic Penfolds vineyards and its Magill Estate cellar door are just a 15-minute-drive from the centre of Adelaide. Penfolds offers you the opportunity to taste some of South Australia's finest wines.
Don't worry, the cellar door closes at 6pm, so you have just enough time to sip, savour and pick up a few bottles too. If you're in Adelaide for an extra morning you could join a 45-minute Magill Estate Heritage Tour to see how the wines are made and stored, and enjoy a taste test (of course).
Another morning option is the two-hour Ultimate Penfolds Experience. Delve deeper into the estate, plunge into the storage cellars, visit the original home of co-founders Dr Christopher and Mary Penfold, and savour some of the best wine that Penfolds has to offer.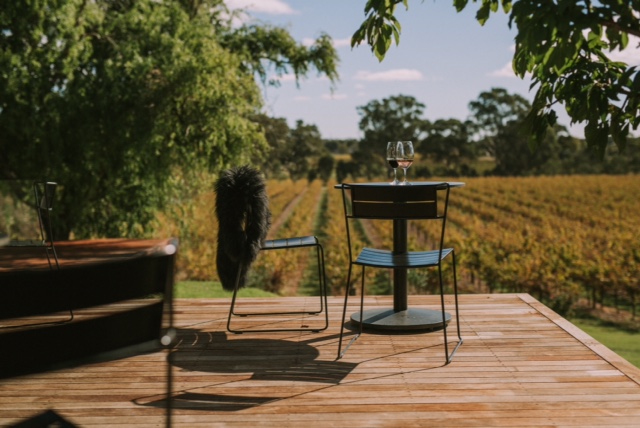 6.30pm – Cocktail O'clock
Eight floors atop an old bank building, 2KW Bar and Restaurant is the perfect venue to relax with a cocktail in hand. Its Terrace bar is a large outdoor space with panoramic views over the River Torrens, Parliament House, and the Adelaide Oval. It's one of the best venues in Adelaide to watch the sun go down with an aperitif in-hand.
The Lofty Lookout cocktail has just the right amount of zing, with coconut washed rum, apricot brandy and lime. Meanwhile, the Stormy Like Summer is hot and spicy thanks to the chipotle-infused tequila, with green capsicum, parley, lime and sugar. As far as beers go, if Peroni or Asahi seem a bit old school, sip a glass of Prancing Pony Double Red Ale from South Australia, or Rogue Hazelnut Brown from the USA.
Feeling peckish? You could graze from the bar menu if you don't want to wait until later. Tuck into some oysters, McLaren Vale olives, or a plate of deep-fried whitebait and school prawns.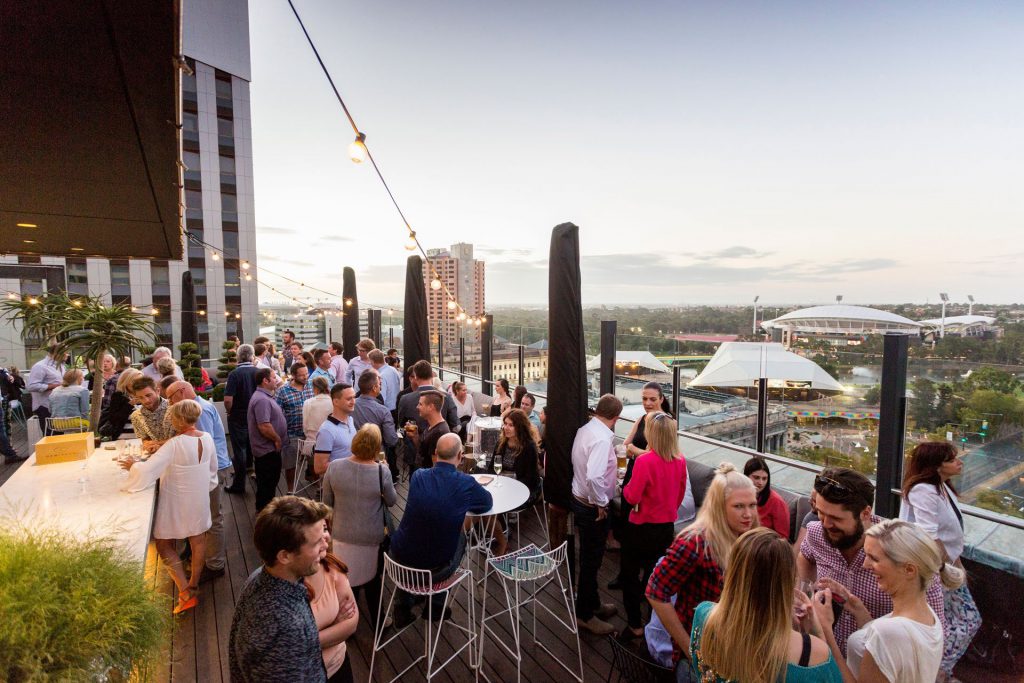 Enjoy cocktails at 2KW Bar and Restaurant as the sun sets over Adelaide.
7.30pm – Dinner time
For something a little different, try Africola. Their large fire pit splutters with 'bush meats' like South African spiral sausages, wood roasted hearts, and peri-peri chicken. Set yourself down on a barstool or in a sky-blue booth surrounded by vibrantly coloured walls and chill out to reggae and African-tunes as the cocktails keep shaking. A $75-a-head 'Let Us Feed You' taste experience will give you a good insight into what South African chef Duncan Welgemoed is all about.
If you fancy Thai food with a contemporary twist instead, head to Golden Boy in Adelaide's East End. Head chef Prachaya 'Palm' Skolaree presents a sharing menu with the likes of salmon belly curry with pickled vegetables, and green papaya salad with salted crab dressing. The menu can be tricky to navigate, so shout out 'tuk tuk' if you don't know your nam pla from your tom kha.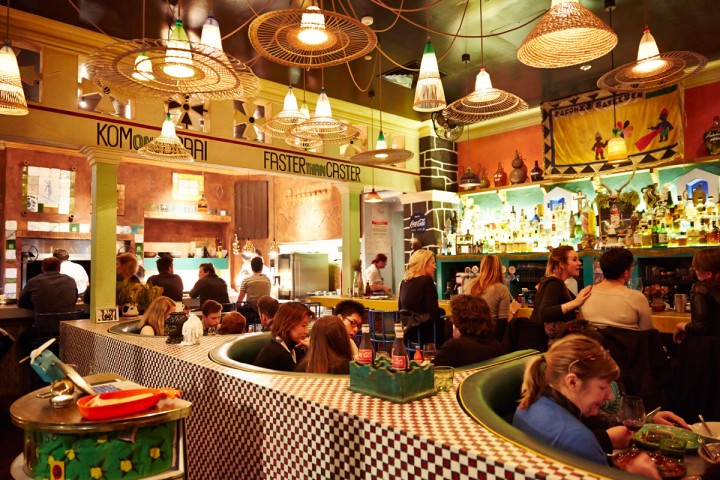 9.30pm – One (or several) more for the road
Adelaide's laneway scene is making its mark on the map these days, with both vibrant Peel Steet and al-fresco Leigh Street showing the way. If you fancy dinner in one of these side-by-side alleyways, the choice is huge. Moroccan, Indian, Spanish, Mexican, Korean, Serbian … the list goes on.
But now it's bar hopping time.